HAVE TERRY SPEAK
Keynote Address: The Economic Outlook, Money & Markets
Financial Planning and Employee Programs: The Savage Truth on Money
Have Terry Moderate Your Corporate Meeting
Terry Moderates Meetings
Read what people have to say about Terry as a moderator:
"Terry Savage was outstanding as a moderator -- knowledgeable & high energy."
"Moderator was great."
"Terry Savage was the perfect moderator- she knows the subject, knows the panel, asks relevant questions, and keeps the conversation moving."

Executives Club Economic Forecast Luncheon 2021
Terry moderates the conversation with a panel of financial experts on their forecasts for the economy, taxes, the markets, interest rates, and regulatory changes that are likely to impact your investments and business decisions.
Cash is King: What the Future Holds
Looking for a pro to moderate your video/virtual meeting? Terry can handle the panel of speakers and questions from the audience – making it all go smoothly.
Executives Club Economic Forecast Luncheon 2020
Terry Talks Money: A personal finance program for corporate employees
Here, Terry talks money to a group of young traders, convincing them that despite their hopes of striking it rich in the markets, they need a slow and steady plan.
Terry Keynote Address
Hear Terry explain how she creates a relevant speech on the economic outlook, the political implications, and the financial markets — all crafted to reach your specific audience.
Terry Moderates Meetings
Major corporate clients including Hilton, Motorola, CUNA Mutual, John Hancock, Fidelity, and many others use Terry's services as a skilled moderator — keeping the attention of the audience and effortlessly maintaining your schedule through several days of programming. Whether moderating a panel or interviewing the CEO, Terry does her homework and works with your meeting planners to achieve your desired results. Her quick wit and intelligence, plus her years of experience hosting her own TV interview show, ensure that your meeting will be lively, entertaining — and to the point.
Terry Does Corporate Videos
Terry on Personal Finance
Corporations use Terry's respected advice and independent point of view to educate their employees about benefits programs, company retirement plans, and overall financial planning. Ask Walmart, Allstate, Walgreens, CNA Insurance, McDonalds, and others who have brought Terry back year-after-year to refresh and update their employee's knowledge of personal investment and retirement planning — from the basics of wise use of credit to the importance of investing for growth in the company plan.
To request information and availability for Terry, please work with a Speakers Bureau of your choice, or contact Terry at 312-266-1717 or Terry@TerrySavage.com.
Terry Savage, Financial Advisor to Walmart Employees!
The Savage Truth on Money, at Walmart's corporate headquarters in Bentonville, AR, kicks off a four-month program in financial literacy for Walmart employees. Every week a new short video giving Terry's Tips will be posted on the employee website, and Walmart associates will have direct access to Terry's blog at www.TerrySavage.com to post their personal finance questions. Savage will also write for the Wal-Mart employee magazine.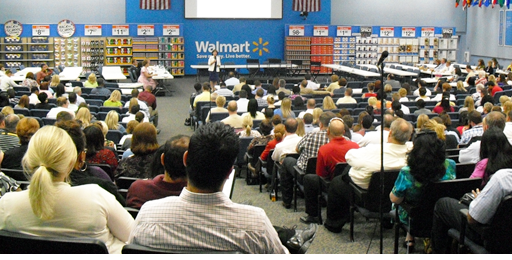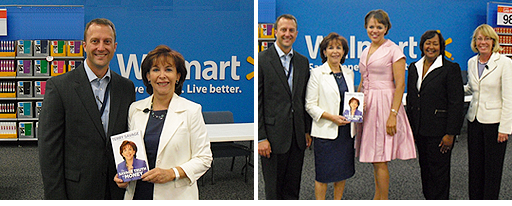 Comments from people who have attended...
Hays Insurance Symposium

Terry, I wanted to let you know how much our audience enjoyed your speaking engagement yesterday at the Metropolitan Club. The topic resonated with our clients and prospects in attendance, and you did an excellent job tying your subject matter to the insurance crowd.

I heard so many favorable comments, and your ability to relate the various financial and economic themes to our guests was a big factor in the positive reception.

Thanks again for helping to make our event a success!

Dave Glantz | Executive Vice President
I can't thank you enough for today. Your talk was so interesting, and you gave everyone in the room some real information they could use today and a sense of optimism about the future. I think it was meaningful to people of all ages, at various stages of their careers.

Peggy
Society for Information Management

Terry, on behalf of the Chicago Chapter of SIM (Society for Information Management), I wanted to thank you for joining us on Monday evening for our Spring Gala event. With over 200 guests, we exceeded our expectations which clearly was a result of your renown recognition in the Chicagoland community. We have received rave reviews and comments from our survey that our guests responded to this week.

Thank you again and we appreciate your thought provoking information/presentation Monday evening.

Mark H. Griesbaum, President, TCS Education System
HSBC Luncheon at the Metropolitan Club

I just wanted to tell you that you did an amazing job with your presentation at the HSBC luncheon at the Metropolitan Club! I was captivated by what you said and how well you presented it and delivered so much information and research so efficiently and effectively. The way in which you present the information is so impactful. You are really right on target.

An email from an attendee at a Keynote Speech
OPI Conference

I wanted to say that in my opinion you did a terrific job at the OPI Conference in Chicago this week. You are incredibly perceptive and energetic and really draw out of the presenters relevant information that adds value in a way that helps audiences understand what is going on. In short, I thoroughly enjoyed watching you engage the speakers (including myself I might add).

From a Panelist at an Association event moderated by Terry
MeetDifferent (Atlanta)

I want to personally thank you for your remarkable contribution at MeetDifferent in Atlanta this past week. Your participation in our first ever event motivated and engaged our industry like never before!

Bruce M. MacMillan, President & CEO, Meeting Professionals International
DST Retirement Leadership Forum

This is a note of appreciation for your fine efforts and great presentation at the DST Retirement Leadership Forum this week. As always, your thoughts were on target, and highly thought-provoking. I, for one, will be looking at your website as I pursue my own retirement plans! The book is a great tool, and our conference participants really enjoyed receiving it.

Robert Reiter, DST Systems, Inc.
The Conference Board of Canada

We want to thank you for your excellent contribution to our Leaders' Forum last week. Terry, your presentation did a fantastic job of drawing some important lessons from the current economic climate. It brought the U.S. perspective to the discussion — and that was extremely valuable.

Prem Benimadhu | The Conference Board of Canada
And Terry moderates entire meetings, introducing speakers, moderating panels, and facilitating Q&A sessions with the audience. See below...
Office Products Industry Council

I just want to say a really big thank you for your contribution to our meeting. You brought a real energy and pace to the meeting and really maintained the interest of the delegates. You did a great job with encouraging questions…Thank you for all the hard work you put into make this meeting a success and I hope we can work together again in the future.

Janet Bell, Office Products Industry Council